At Gesher we are always looking for people who want to join our learning community, and  who are passionate about inspiring and empowering children and young people to have a future in which they can thrive.
Please see the below roles that are currently available at Gesher School and applicable further information. If you wish to apply for any of these roles, please complete the application form below:
If you would like the recruitment application form in Word format, please email [email protected]
Pathways of Progression
"After working in a number of different industries, I began working in education as a 1:1 TA for a child with autism. This was initially planned as just an interim job that would allow me some freedom at the weekends and holidays so that I could begin my Masters in Dramatherapy, but I quickly found that I loved working with young people and that it was a role where I could also develop my skillset towards my long-term goals.
As I progressed through my MA, I was fortunate that I was able to adapt my working hours to accommodate the increased amount of learning required for the course. I was mindful with my placements to seek out settings where there could be future opportunities for employment, and I ensured that my professional goals were communicated with the relevant contacts. This ultimately led to the opportunity to join the Gesher team when the school opened in 2017!
The role at Gesher was initially a two-days a week position due to the number of children in the school, which I complemented with dramatherapy and education-based roles in other settings. As the school grew, this gradually increased until the start of the second year where I was working full-time at Gesher and I was offered the opportunity to take on further responsibilities such as admissions, safeguarding, and wellbeing. In 2020, there was a transitionary period within the senior leadership team in which I was appointed Acting Deputy Head, which became a trial by fire due to the covid pandemic beginning less than a month later! Fortunately, there were multiple further opportunities for CPD and lots of support offered by the school team and the governing body, which ensured I was able to move into the permanent position of Deputy Head within the year.
From start to finish, I have gone from working as a TA with no experience in the education setting to the Deputy Head of an all-through school within six years. There are so many pathways for progression and I am very happy that I have been able to do this with a workplace and a team that I love."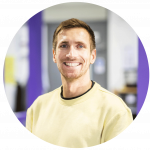 Chris Gurney
Deputy Head/Dramatherapist/Safeguarding and Wellbeing Lead