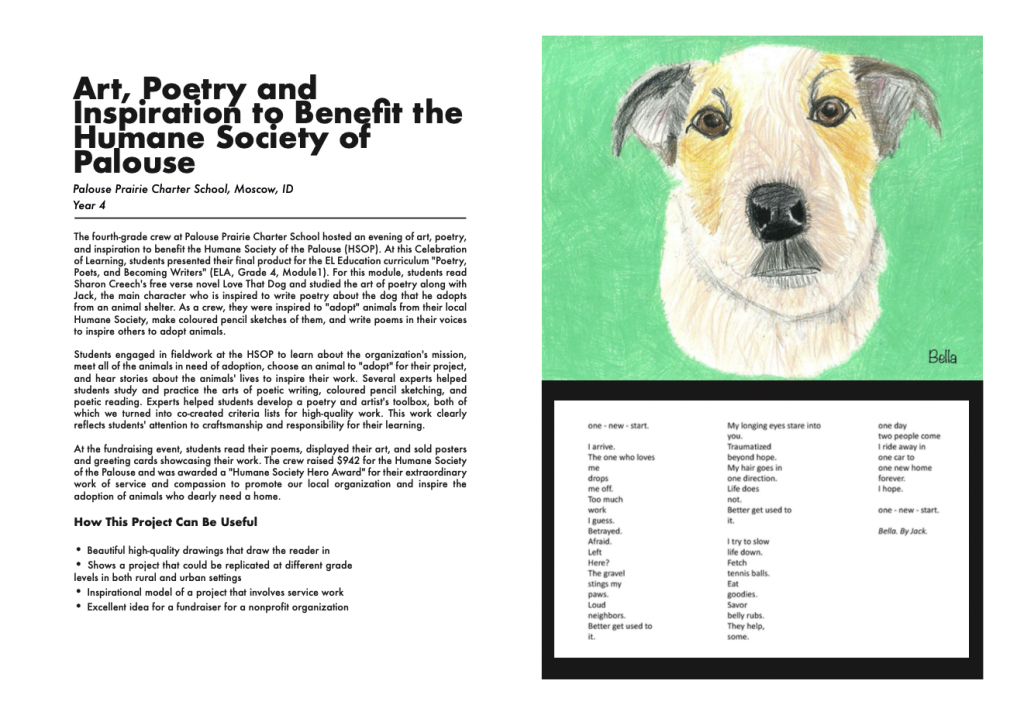 View or download
The fourth-grade crew at Palouse Prairie Charter School hosted an evening of art, poetry, and inspiration to benefit the Humane Society of the Palouse (HSOP). At this Celebration of Learning, students presented their final product for the EL Education curriculum "Poetry, Poets, and Becoming Writers" (ELA, Grade 4, Module1). For this module, students read Sharon Creech's free verse novel Love That Dog and studied the art of poetry along with Jack, the main character who is inspired to write poetry about the dog that he adopts from an animal shelter. As a crew, they were inspired to "adopt" animals from their local Humane Society, make coloured pencil sketches of them, and write poems in their voices to inspire others to adopt animals.
Students engaged in fieldwork at the HSOP to learn about the organisation's mission, meet all of the animals in need of adoption, choose an animal to "adopt" for their project, and hear stories about the animals' lives to inspire their work. Several experts helped students study and practice the arts of poetic writing, coloured pencil sketching, and poetic reading. Experts helped students develop a poetry and artist's toolbox, both of which we turned into co-created criteria lists for high-quality work. This work clearly reflects students' attention to craftsmanship and responsibility for their learning.
At the fundraising event, students read their poems, displayed their art, and sold posters and greeting cards showcasing their work. The crew raised $942 for the Humane Society of the Palouse and was awarded a "Humane Society Hero Award" for their extraordinary work of service and compassion to promote our local organisation and inspire the adoption of animals who dearly need a home.
Teacher Reflection
Beautiful high-quality drawings that draw the reader in
Shows a project that could be replicated at different grade levels in both rural and urban settings
Inspirational model of a project that involves service work
Excellent idea for a fundraiser for a nonprofit organisation.