Gefen was very excited to do our project on Animals in the Wild. We answered the big question of ʻWhat do we know about wild animals in our community?'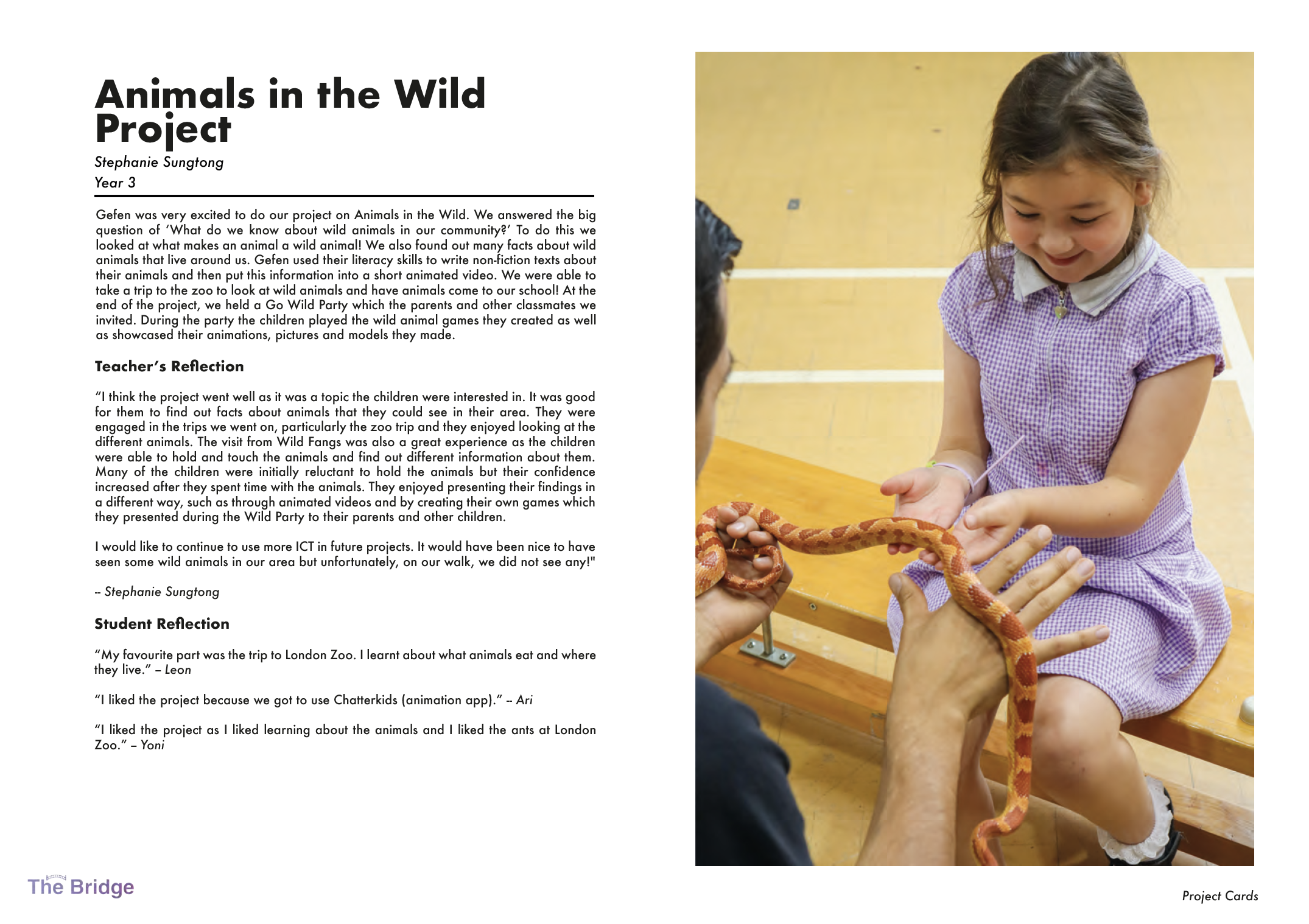 View or download
To do this we looked at what makes an animal a wild animal! We also found out many facts about wild animals that live around us. Gefen used their literacy skills to write non-fiction texts about their animals and then put this information into a short animated video. We were able to take a trip to the zoo to look at wild animals and have animals come to our school! At the end of the project, we held a Go Wild Party which the parents and other classmates we invited. During the party the children played the wild animal games they created as well as showcased their animations, pictures and models they made.
Teacher's Reflection
"I think the project went well as it was a topic the children were interested in. It was good for them to find out facts about animals that they could see in their area. They were engaged in the trips we went on, particularly the zoo trip and they enjoyed looking at the different animals. The visit from Wild Fangs was also a great experience as the children were able to hold and touch the animals and find out different information about them. Many of the children were initially reluctant to hold the animals but their confidence increased after they spent time with the animals. They enjoyed presenting their findings in a different way, such as through animated videos and by creating their own games which they presented during the Wild Party to their parents and other children.
I would like to continue to use more ICT in future projects. It would have been nice to have seen some wild animals in our area but unfortunately, on our walk, we did not see any!"
— Stephanie Sungtong
Student Reflection
"My favourite part was the trip to London Zoo. I learnt about what animals eat and where they live."
– Leon
"I liked the project because we got to use Chatterkids (animation app)."
– Ari
"I liked the project as I liked learning about the animals and I liked the ants at London Zoo."
– Yoni