This term we explored electricity and why electricity is important to everyday life. We looked at the science behind electricity and learned how to make our own circuits, how to be safe using electricity and how to encourage others to do the same.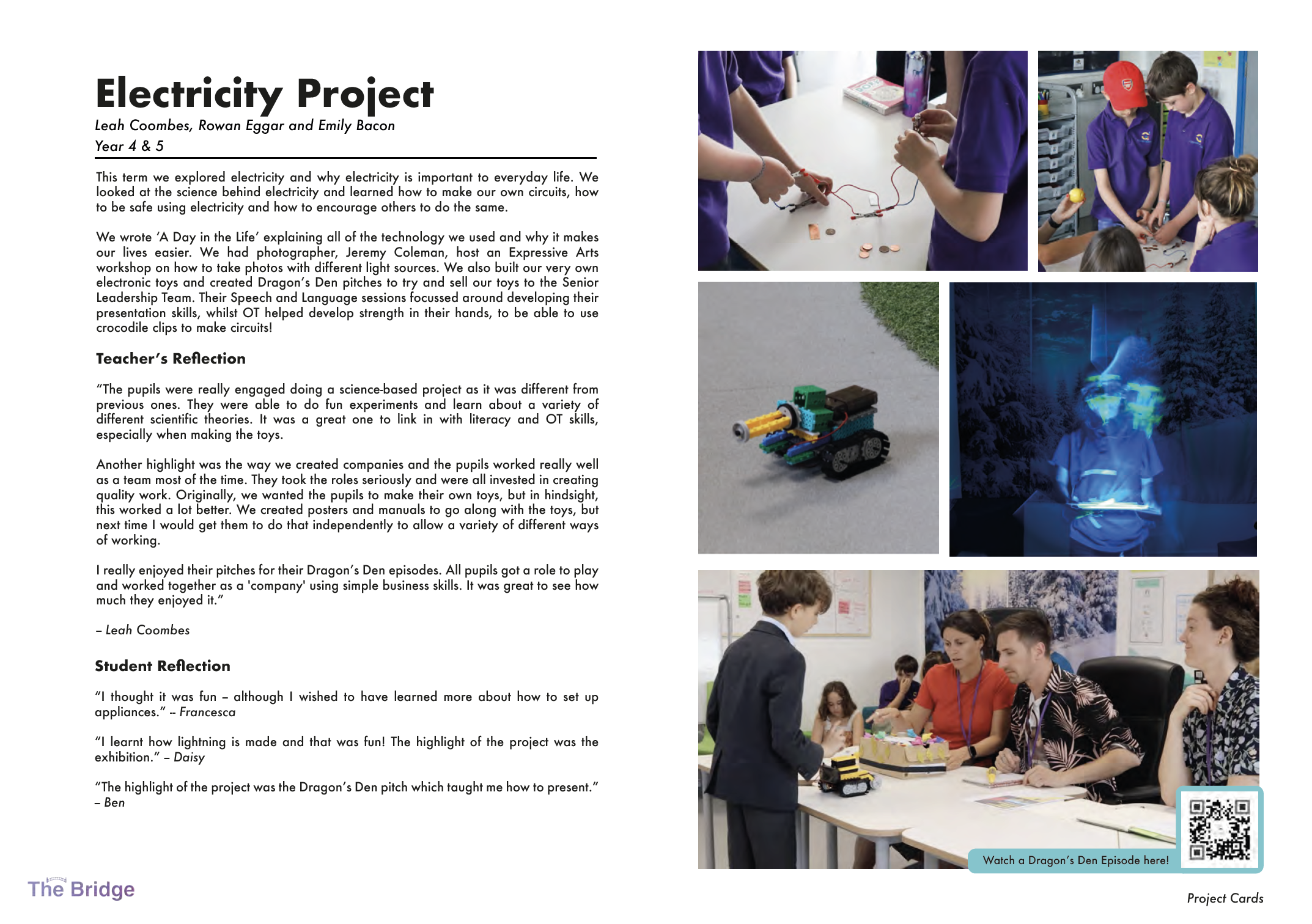 View or download
We wrote ʻA Day in the Life' explaining all of the technology we used and why it makes our lives easier. We had photographer, Jeremy Coleman, host an Expressive Arts workshop on how to take photos with different light sources. We also built our very own electronic toys and created Dragon's Den pitches to try and sell our toys to the Senior Leadership Team. Their Speech and Language sessions focussed around developing their presentation skills, whilst OT helped develop strength in their hands, to be able to use crocodile clips to make circuits!
Teacher's Reflection
"The pupils were really engaged doing a science-based project as it was different from previous ones. They were able to do fun experiments and learn about a variety of different scientific theories. It was a great one to link in with literacy and OT skills, especially when making the toys.
Another highlight was the way we created companies and the pupils worked really well as a team most of the time. They took the roles seriously and were all invested in creating quality work. Originally, we wanted the pupils to make their own toys, but in hindsight, this worked a lot better. We created posters and manuals to go along with the toys, but next time I would get them to do that independently to allow a variety of different ways of working.
I really enjoyed their pitches for their Dragon's Den episodes. All pupils got a role to play and worked together as a 'company' using simple business skills. It was great to see how much they enjoyed it."
— Leah Coombes
Student Reflection
"I thought it was fun — although I wished to have learned more about how to set up appliances."
– Francesca
"I learnt how lightning is made and that was fun! The highlight of the project was the exhibition."
– Daisy
"The highlight of the project was the Dragon's Den pitch which taught me how to present."
– Ben