By Rowan Eggar
Nearly half a million children in the UK have Educational Health Care Plans (EHCP). This represents a 480% increase since 2016. State-funded special schools have seen a 22% increase in pupil headcount over the same period. In addition, a further 12% of mainstream pupils require SEN support from nursery to the end of secondary school.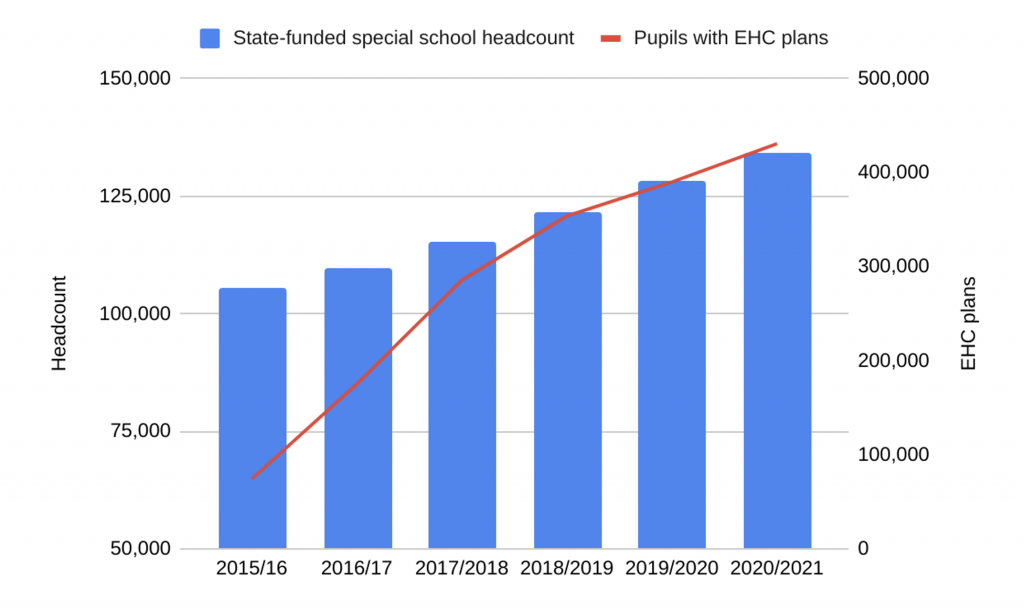 Yet despite this, recruitment of SEND teachers continues to be an uphill struggle. Only 5% of qualified teachers work in special needs settings or PRUs (ONS, 2021) and there is a distinct lack of data on retention rates and the number of foreign teachers. This further highlights the problem, SEND teachers are not considered when looking at recruitment and retention despite the ever growing number of pupils with additional needs (OECD, 2019). 
A solution to this problem needs to be found to help these vulnerable and extraordinary pupils.  
Retention of Teachers   
The special needs teacher shortage is not limited to SEND.  It is a nationwide problem. Teacher retention is another uphill struggle. Current statistics are telling, with only 67.4% of teachers remaining in the profession after five years (EPI, May 2021). The government is attempting to address these issues with the roll out of ECT training, designed to better support and mentor new teachers. However, I would argue that placement of ECT teachers in schools they already have a relationship with would produce more high quality teachers. Firstly, these teachers have a solid understanding of the ethos and values of the school, which they may also embody. Secondly, knowledge and practice of key areas including behaviour, curriculum and safeguarding procedures. Finally, their interpersonal relationships with colleagues and the senior leadership team will provide a support network during those early and overwhelming trainee years.  
Retention of teachers is a huge problem and workload is at least partially to blame. A primary teacher is averaged to spend 52 hours a week working, which when coupled with relatively low pay and a public sector pay freeze highlights the complexities of the problem. Special needs teaching is notoriously challenging and does require a certain type of individual. However, if the right training route was in place perhaps we would be better able to identify and support the issues of teacher retention. 
COVID 19  
COVID 19 has affected SEND staff shortages significantly and is having a profound impact on staff recruitment. Unlike here in the UK, South Africa, Australia and New Zealand all have specialist SEND teacher training, whose highly skilled teachers previously made up a large proportion of our SEND teachers. Now with Covid 19 continuing, many of these individuals have gone back home. With ever changing regulations and differing quarantine regulations, there is no clear return date for them. Anecdotally, our school alone has lost 10% of teachers and teaching assistants.  
No specialist training  
In the UK, there is no specialist SEND teacher training in either the PGCE or BA education route.A recent survey showed the top two reasons for teachers handing in their notice were lack of training in managing student behaviour and SEND (TES, 2019). ⅓ of teachers would like further training or CPD on SEND. Pupils in specialist settings have a range of mild to severe needs from social communication to social emotional mental health to profound learning disabilities. Therefore, they require bespoke and comprehensive training to help them overcome their barriers to learning. While some schools are able to offer CPD and paid for training, many are underfunded and unable to. Often the needs of SEND pupils are so complex that without the correct tools and skill sets behaviour can become dysregulated and pupils are unable to learn. Without appropriate training or the right supportive setting, how can we recruit teachers into SEND? 
Should the UK not be a leading specialist in special needs training like South Africa and Hungry? Being able to be part of a world wide initiative would further attract new teachers and upskill our current educators.  
What can we do about it?  
The first step is to acknowledge the problem and raise awareness. Working together with the government, local authorities and educational think tanks will enable us to discuss the problem and come together to think of solutions. 
The next step is to develop SEND specialist training programmes. Both postgraduate and apprenticeship routes should be considered. Utilising and mentoring the extraordinary teaching assistants already present in schools is one solution. Including SEND placements onto teacher training courses would also increase awareness and provide opportunities for all teachers to learn from our SEND pupils before bringing those skills back into the mainstream and specialist learning environments. 
– Written by Rowan Eggar