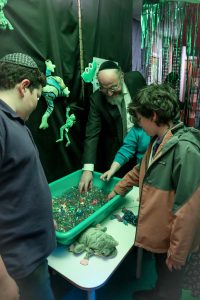 Gesher moved to its new home in Pinner in September 2021. Since then we have been very fortunate to welcome The Chief Rabbi to the school on three occasions.
The first was to put our mezzuzahs up in our original building!  The second was to record the Shabbat UK 2022 song with the students and the third was in April when the school transformed itself into a sensory immersive Pesach experience replete with animal sounds, live locusts and plenty of frogs. Three of our students hosted The Chief Rabbi and other guests along the ten plagues learning walk culminating in a freedom party in the school hall.
It was a really special afternoon and we are truly grateful for the time, support and interest The Chief Rabbi has shown to Gesher. We very much look forward to his next visit next term.