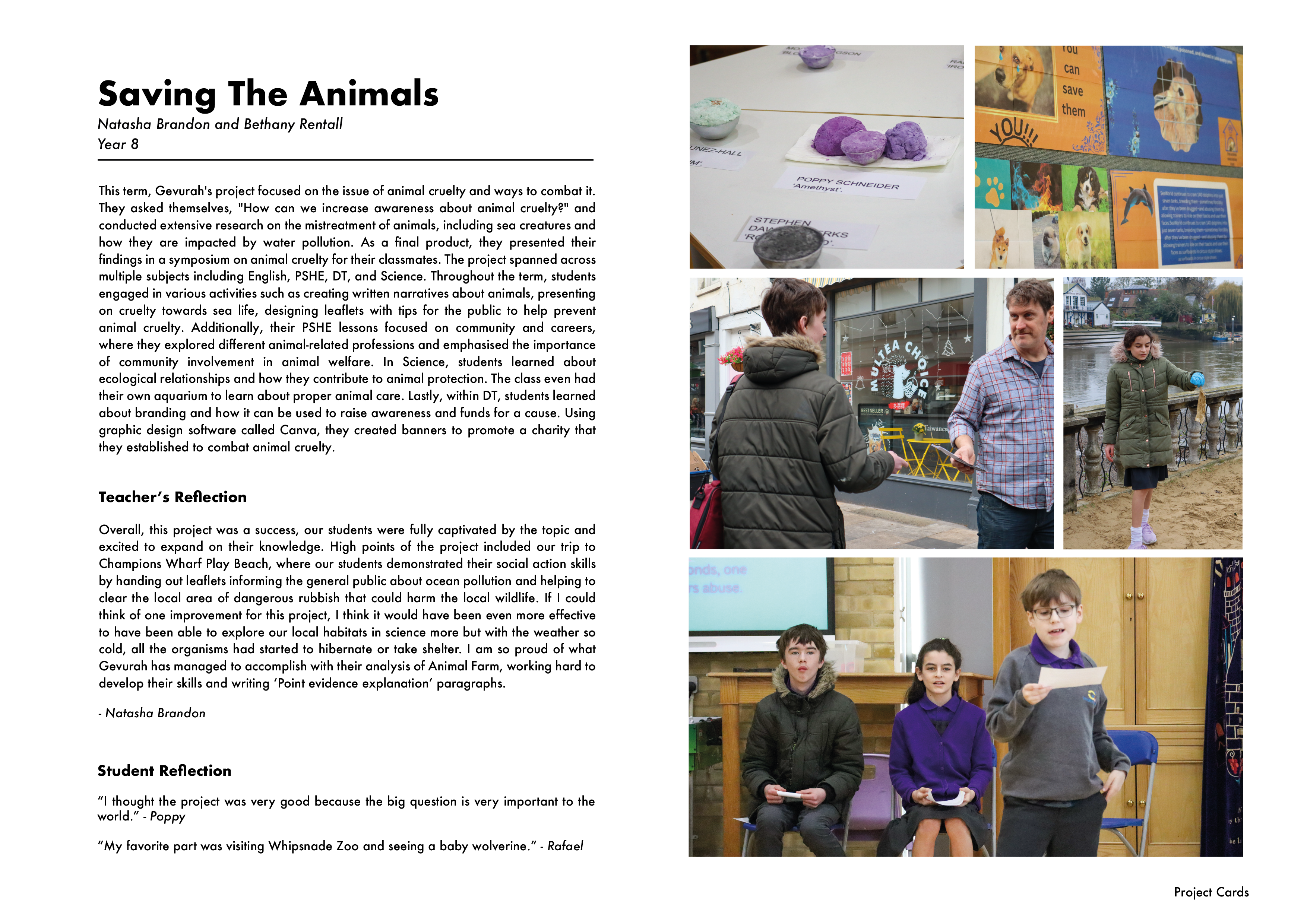 This term, Gevurah's project focused on the issue of animal cruelty and ways to combat it. They asked themselves, "How can we increase awareness about animal cruelty?" and conducted extensive research on the mistreatment of animals, including sea creatures and how they are impacted by water pollution. As a final product, they presented their findings in a symposium on animal cruelty for their classmates. The project spanned across multiple subjects including English, PSHE, DT, and Science. Throughout the term, students engaged in various activities such as creating written narratives about animals, presenting on cruelty towards sea life, designing leaflets with tips for the public to help prevent animal cruelty. Additionally, their PSHE lessons focused on community and careers, where they explored different animal-related professions and emphasised the importance of community involvement in animal welfare. In Science, students learned about ecological relationships and how they contribute to animal protection. The class even had their own aquarium to learn about proper animal care. Lastly, within DT, students learned about branding and how it can be used to raise awareness and funds for a cause. Using graphic design software called Canva, they created banners to promote a charity that they established to combat animal cruelty.
Teacher's Reflections
Overall, this project was a success, our students were fully captivated by the topic and excited to expand on their knowledge. High points of the project included our trip to Champions Wharf Play Beach, where our students demonstrated their social action skills by handing out leaflets informing the general public about ocean pollution and helping to clear the local area of dangerous rubbish that could harm the local wildlife. If I could think of one improvement for this project, I think it would have been even more effective to have been able to explore our local habitats in science more but with the weather so cold, all the organisms had started to hibernate or take shelter. I am so proud of what Gevurah has managed to accomplish with their analysis of Animal Farm, working hard to develop their skills and writing 'Point evidence explanation' paragraphs.
– Natasha Brandon
Students' Reflections
"I thought the project was very good because the big question is very important to the world" – Poppy

"My favorite part was visiting Whipsnade Zoo and seeing a baby wolverine" – Rafael