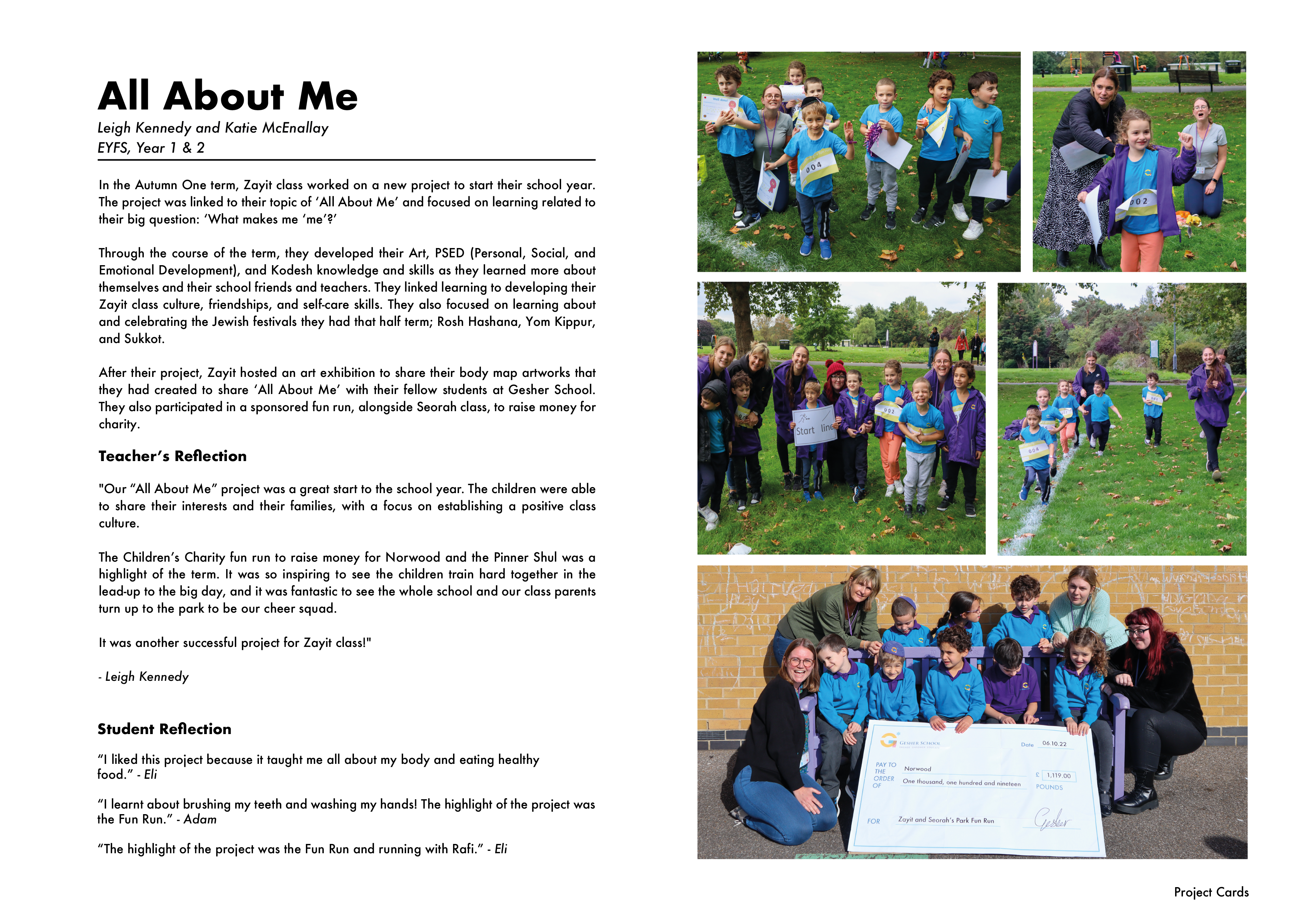 In the Autumn One term, Zayit class worked on a new project to start their school year. The project was linked to their topic of 'All About Me' and focused on learning related to their big question: 'What makes me 'me'?'
Through the course of the term, they developed their Art, PSED (Personal, Social, and Emotional Development), and Kodesh knowledge and skills as they learned more about themselves and their school friends and teachers. They linked learning to developing their Zayit class culture, friendships, and self-care skills. They also focused on learning about and celebrating the Jewish festivals they had that half term; Rosh Hashana, Yom Kippur, and Sukkot.
After their project, Zayit hosted an art exhibition to share their body map artworks that they had created to share 'All About Me' with their fellow students at Gesher School. They also participated in a sponsored fun run, alongside Seorah class, to raise money for charity.
Teacher's Reflections
"Our "All About Me" project was a great start to the school year. The children were able to share their interests and their families, with a focus on establishing a positive class culture.
The Children's Charity fun run to raise money for Norwood and the Pinner Shul was a highlight of the term. It was so inspiring to see the children train hard together in the lead-up to the big day, and it was fantastic to see the whole school and our class parents turn up to the park to be our cheer squad.
It was another successful project for Zayit class!"
– Leigh Kennedy
Students' Reflections
"I liked this project because it taught me all about my body and eating healthy food." – Eli

"I learnt about brushing my teeth and washing my hands! The highlight of the project was the Fun Run." – Adam

"The highlight of the project was the Fun Run and running with Rafi." – Eli